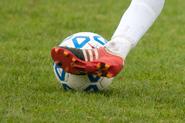 The Hamilton College men's soccer team opened its season Wednesday, dropping a 1-0 decision to SUNY Oswego at Love Field. The visiting Lakers scored the game's only goal midway through the second overtime period.

Box score

The Continentals outshot Oswego (2-2-0) 21-12, including a 14-6 advantage after the first half before the Lakers scored the game's only goal 4:27 into the second sudden-death overtime session.

Oswego's Bernard Kofey took a long pass from Harrison Rieber along the left side, then directed a shot back to the center of the net for his team-leading fourth goal of the year.

The Continentals had recorded a pair of scoring chances of the extra periods before Kofey's game winner. Four minutes into overtime, Erich Marcks '16 sent a long cross at the Laker goal that landed in the top netting. Jack Temko '18 had a chance at the game winner just under two minutes into the second session, collecting a long high cross and heading a shot at the right post that went just wide.

Both teams had chances to win late in regulation, starting with a long run by Kofey that saw him beat a slide tackle attempt and send a hard left-footed shot at the upper right corner of the net. The shot was just over the hands of Hamilton goalkeeper Harris Pollack '17 but hit the post and bounced away.

With just under two minutes left in the second period, Hamilton's Myles Pindus '19 sent a direct kick over the crossbar and a minute later Connor Lunduski's long shot went directly into the arms of Pollack.

Pollack finished with four stops, including a key save late in the first half when he tipped RJ Nichol's shot from the top of the box off the crossbar. The rebound landed at the feet of Oswego's Mitch Brickman at the opposite side of the net, but Brickman couldn't control the ball.

Oswego goaltender Jon Runge made four saves in his first appearance of the season, coming up with the game's biggest play in the 75th minute, smothering a penalty kick by Temko.

The Lakers' win was their first over the Continentals since 1977, snapping Hamilton's 16-game unbeaten streak in the series.

The Continentals open NESCAC competition Saturday, hosting Bates in a 1:30 p.m. game.