Men's soccer edged by Hobart
---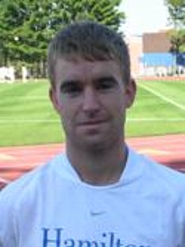 Hamilton College fell to host Hobart College 2-1 in a Liberty League contest and regular season finale for both teams at Cozzens Field on Oct. 31.
The Continentals (9-4-1 overall, 5-2-0 Liberty) are the third seed in the Liberty League tournament, and will travel to No. 2 seed Hobart again for a semifinal game on Tuesday, Nov. 3, at 1:30 p.m. The Statesmen improved to 12-3-2 overall and 5-2-0 in the league.

Hobart put the first point on the board 27 minutes, 46 seconds into the match. After a corner kick, Hobart connected on a shot from 7 yards out following a scramble in front of the net.

The Continentals evened the score at 1-1 in the 47th minute. Sam Dwyer '10 sent a lead pass to Jon Sanford '11 for a header that beat the Statesmen goalie to the lower left corner of the net. Sanford leads the team with eight goals and Dwyer is tied for the team lead with three assists.

Hobart scored the go-ahead goal in the 83rd minute. The Statesmen were able to break away from the Hamilton defense, and draw goalkeeper Eric Boole '13 out of the net. Hobart then crossed the ball to set up the shot from about 3 yards out.

Boole collected three stops for the Continentals. Hobart held a slight 13-12 edge in shots, and also led in corner kicks with nine to Hamilton's three.