Men's soccer edged in league tournament semifinal
---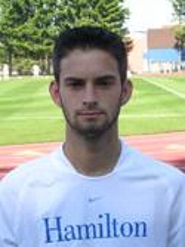 Hamilton College fell 1-0 to host Hobart College in a 2009 Liberty League tournament semifinal game at Cozzens Field on Nov. 3.
No. 3 seed Hamilton (9-5-1 overall) traveled to take on second-seeded Hobart for the second time in four days after playing the regular season finale on the same field on Oct. 31. Hobart (13-3-2) emerged from that game with a 2-1 victory. This is the first time that the Continentals have been shut out since their 1-0 loss to Rensselaer on Sept. 25. Hobart advances to the Liberty League championship game on Saturday, Nov. 7.
The Continentals had a chance to score in the first half when Hennie Bosman '13 broke away from the Hobart defense. The goalie came out of the goal, but Bosman kept control of the ball. With the goalie scrambling back to the net, Bosman fired a shot that went high.
Hobart broke through in the 55th minute with a shot from 16 yards out that passed just under the crossbar and over the head of goalkeeper Eric Boole '13.
The Continentals fought hard to tie the score, earning six of their eight corner kicks in the second half. Two of their best scoring opportunities came in the final minutes of regulation. With 2 minutes, 27 seconds left in the second half, Bennett Weinerman '11 sent a corner kick into a crowd in front of the goal. The Continentals fired a shot that was stopped short by a Hobart player who was guarding the right post.
With just 17 seconds left, Hamilton earned another corner kick. Sam Dwyer '10 sent the ball in front of the goal. Paul Moakler '10 was there to send a header at the goal, but the keeper made a diving save to secure the win for Hobart.
Boole finished with a total of seven saves. Hobart held an advantage in shots with 16 to Hamilton's eight. The Continentals led in corners, 8-2.