Men's soccer edges Clarkson
---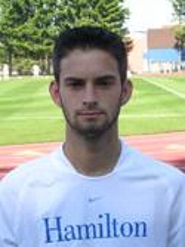 Hamilton College won a Liberty League game against Clarkson University, 2-1, on Clarkson's new Hantz Turf Field on Oct. 9.
After a scoreless first half, Jon Sanford '11 put Hamilton (5-3-1 overall, 2-1-0 Liberty) on the scoreboard first in the 69th minute. Hennie Bosman '13 came down the sideline and sent a cross through the box near the end line. Just as the ball was about to scoot out of bounds, Sanford came sliding in to guide the ball in for his team-leading fourth goal of the season.

A similar score occurred for the Continentals just five minutes later as Paul Moakler '10 gained his first goal of the season, booting in a cross from Bennett Weinerman '11 just after a corner kick.

The Golden Knights (5-5-1, 0-3) scored with just five seconds remaining when a shot ricocheted off one post and bounced in off the other, spoiling the chance for a Hamilton shutout.

The Continentals held an 8-2 edge in corner kicks. Clarkson held a slight lead in shots, 14-11. Eric Boole '13 made three saves for the win.
Hamilton aims for its fourth straight win on Saturday, Oct. 10, when they travel to St. Lawrence University for another league game at 2 p.m.