Men's soccer edges Skidmore to even league record
---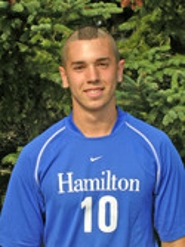 Jesse Arroyave '11 snapped a 1-1 tie with an unassisted goal with 6:44 left in regulation and Hamilton College held on for a 2-1 Liberty League victory against visiting Skidmore College at Love Field on Oct. 10.
Arroyave leads Hamilton (6-3 overall, 2-2 Liberty) with five goals. Sam Dwyer '10 gave the Continentals a 1-0 lead in the 20th minute with his second goal this year. Anthony Carello '09 made five saves in goal.
Skidmore's win streak ended at three games. The Thoroughbreds (8-3-2, 1-2-0) tied the score in the 80th minute on a goal following a free kick.
Hamilton has won five of the last six games against Skidmore, and the Continentals hold a commanding lead in the all-time series, 23-4-1. Hamilton held a 10-9 edge in shots and took nine corner kicks to five for the Thoroughbreds. The Continentals improved to 4-1 at home.