Men's soccer wins home finale
---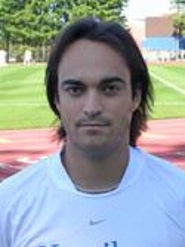 Hamilton College won its fifth straight game as the Continentals edged visiting Utica College, 2-1, in a non-league contest played at Love Field on Oct. 14.
In the 12th minute, Jon Sanford '11 scored his fifth goal in the last four games to put Hamilton (7-3-1 overall) on the scoreboard first. Marcus Dormanen '10 played a long pass ahead to Sanford, who kicked the ball right at a Utica defender. Sanford controlled the loose ball and rifled a shot past the goalkeeper from about 15 yards out. Sanford leads the Continentals with six goals and 12 points.
Utica (3-8-1) answered with its lone goal in the 58th minute. Eleven minutes, 46 seconds later, Sam Dwyer '10 scored the game-winning goal for the Continentals. The Utica goalkeeper dove to intercept a crossing pass, but could not keep control of the ball. Dwyer was there when the ball squirted free, and put a shot into the open net for his first goal of the season.
Eric Boole '13 only needed to make three saves in the win. The Continentals held a strong advantage in shots with 17 to the Pioneers' eight. Hamilton also held the edge in corner kicks, 3-2. The Continentals improved to 30-1-0 all-time against Utica.
Hamilton returns to action for a Liberty League game on the road against Union College at 1 p.m. on Saturday, Oct. 24.