Men's soccer falls in league opener
---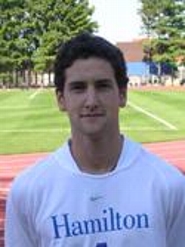 Hamilton College fell 1-0 at home to nationally ranked No. 14 Rensselaer in the Liberty League opener at Love Field on Sept. 25.
Neither team was able to score in the first half. Rensselaer (6-0-1, 1-0 Liberty) came close early in the half, but the goal was disallowed. Later in the half, Hamilton (2-3-1, 0-1) had an opportunity to score when
Billy Ford '10
fired a shot but the Rensselaer goalie made the save.
It was not until the 73rd minute that Rensselaer scored the game-winning goal. After a series of passes in front of the goal, the Engineers were able to put a shot past Continental goalkeeper Eric Boole '13.
Boole finished with three saves. RPI has not allowed a goal yet this season. Rensselaer held the advantage in shots with 16, while Hamilton recorded seven. The Engineers also led in corner kicks, 5-2.
Hamilton returns to Love Field Saturday, Sept. 26, to host Vassar College at 2 p.m.