Men's soccer falls in season opener
---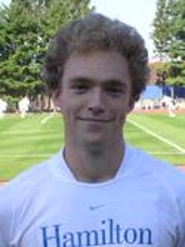 Rochester Institute of Technology took a 2-0 lead in the second half and held on for a 2-1 non-league win over Hamilton College at Love Field on Sept. 9.
The game remained scoreless for the first 45 minutes. RIT (2-1-1 overall) opened the second half scoring a goal just 18 seconds in. The Tigers made the score 2-0 in the 66th minute.
Hamilton (0-1) rallied one minute and 18 seconds later when Marcus Dormanen '10 scored their first and only goal. Dormanen put a low bouncing shot past the RIT goalie off a corner kick sent into the box by Paul Moakler '10. The goal was the second in Dormanen's career. His first came in a 2-1 win on Nov. 2, 2007, in a Liberty League tournament semifinal game against Union College.
Mark Garcia '10 made his first career start in goal for the Continentals. He had a total of eight saves.
RIT also held the advantage in shots, 21-14. Hamilton earned 10 corner kicks while RIT had only three.
The Continentals return to action on Saturday, Sept. 12, when they travel to Ithaca College for another non-league game.