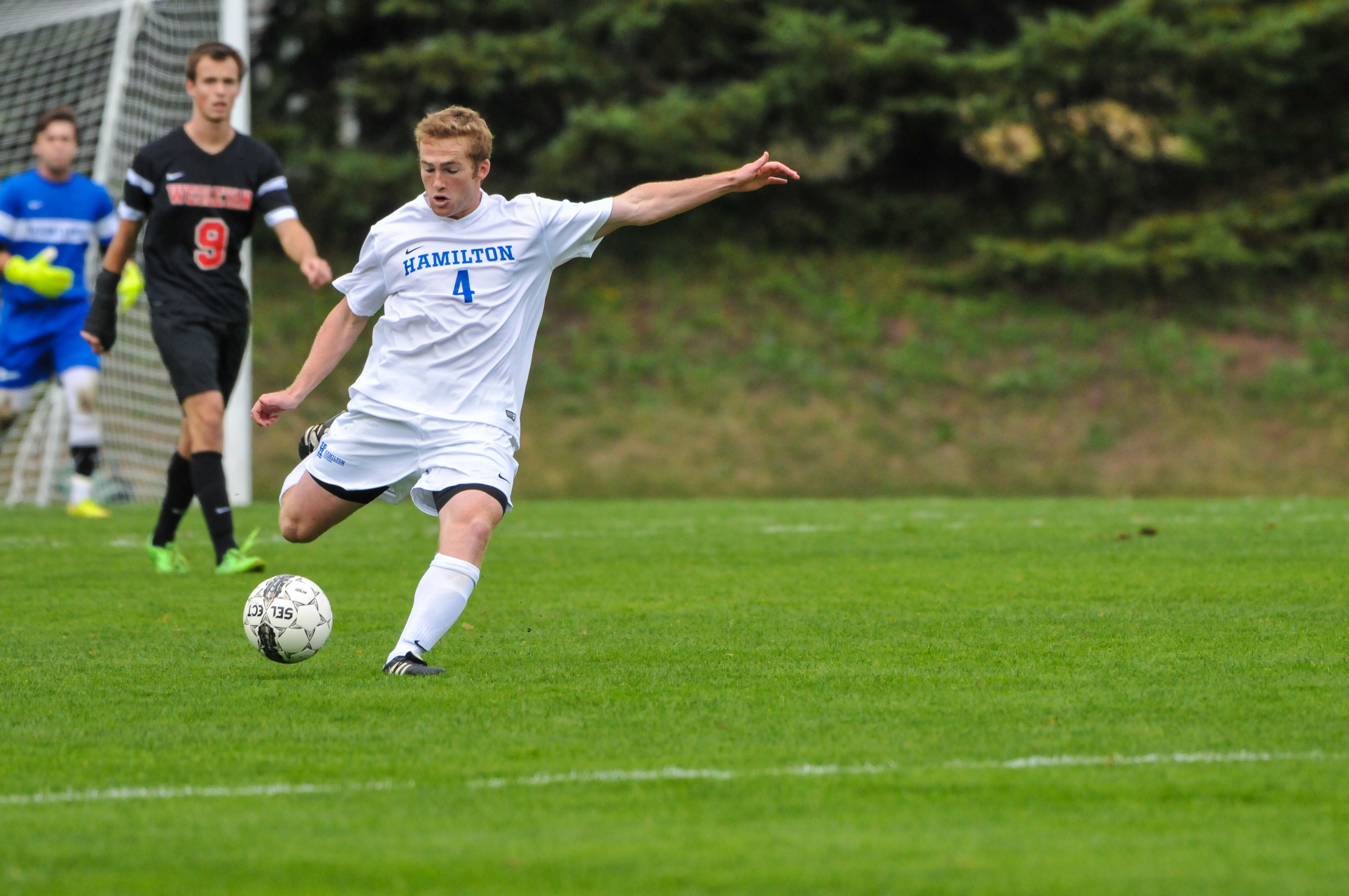 The Hamilton College men's soccer team held the nation's second-ranked team scoreless for the first half before undefeated Amherst scored three times in the second half to claim a 3-0 win in a NESCAC game Saturday afternoon at Love Field. The loss snapped a two-game winning streak for host Hamilton.

Box score

The Continentals (5-6-0, 2-5 NESCAC) limited Amherst – who came in averaging nearly 18 shots per game – to just three first-half shots and 12 for the entire game.

The Lord Jeffs, ranked second in the latest national coaches poll, scored three times in less than 10 minutes. Amherst (10-0-0, 5-0) got on the board first 8:37 into the second half when Greg Singer knocked in his fourth goal of the season off a rebound following a direct kick. The kick was played to the near post where a close shot was saved by Hamilton goalkeeper Harris Pollack '17. The rebound made its way to the far post where Singer converted it for the goal.

Less than three minutes later Milton Rico broke up a Hamilton attack and sent a long pass into the Continental end, where Christopher Martin caught up to the ball then deked a Hamilton defender before putting the ball just inside the near post for his first goal of the season.

Amherst closed out the scoring in the 63rd minute when Andrew Orozco scored off a cross from Aidan Murray.

The Lord Jeff defense, which leads the nation in goals-against average and save percentage, held Hamilton to three shots – all in the first 30 minutes. Thomas Bull made one save for the shutout.

Pollack finished with four saves. Mike Lubelczyk '17 helped keep the first half scoreless by playing a ball off the line after a shot by Amherst's Sam Malnik went off Pollack toward the net.

The Continentals open a three-game road swing Wednesday, playing a 4:30 p.m. non-league game at SUNY Oneonta.