Men's soccer generates offense in win against Geneseo
---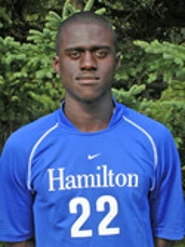 Max Akuamoah-Boateng '09 scored one goal and was credited with one assist to help lead Hamilton College to a 4-1 non-league win against visiting SUNY Geneseo at Love Field on Nov. 1.
Hamilton finishes the season with a record of 8-6. The Blue Knights (11-4-2) suffered their first loss since Sept. 10 and had an 11-game unbeaten streak come to an end in their regular season finale.
All five goals were scored in the second half. Frank Campagnano '12 nailed his fifth goal for the Continentals on a free kick in the 52nd minute for a 1-0 lead. Paul Moakler '10 put Hamilton up 2-0 in the 62nd minute when he scored his second goal this year off a turnover by the keeper.
Akuamoah-Boateng made the score 3-0 just 1:15 later as he scored from in front of the goal on a cross from Sam Dwyer '10. Michael Hannan '09 picked up a secondary assist on the play because he passed the ball to Dwyer.
Akuamoah-Boateng then assisted on the first career goal for Matthias Hunkeler '10 in the 85th minute. Akuamoah-Boateng -- a three-time Liberty League all-star -- finishes his career with nine goals and 10 assists.
Geneseo avoided the shutout on a goal with 3:46 left. Anthony Carello '09 started in goal for the Continentals and stopped all seven shots he faced during the first 75:40. Chris Kasdorf '09 made one save in his first collegiate appearance in goal.
Hamilton leads the all-time series against Geneseo, 5-2. The Continentals held a 23-20 advantage in shots and took four corner kicks to two for the Blue Knights. Hamilton finishes with a winning record for the ninth straight year.