Men's soccer masters Ithaca
---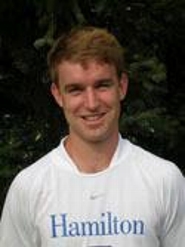 Jon Sanford '11 scored a goal and added an assist to lead Hamilton College to a 3-0 win against Ithaca College in a non-league game at Hamilton's Love Field on Sept. 11.
Anthony Balbo '13 and Frank Campagnano '12 chipped in one goal apiece for the winners. John Marchessault '11 and Leo Nizzi '14 were each credited with one assist. Eric Boole '13 started in goal and was relieved by Colin Hill '13 in the 78th minute. Both keepers made one save.
Justin Parlapiano '11 stopped three shots for Ithaca (0-2-2 overall). The Bombers were blanked for the second straight game and have scored two goals in four games this year. The Continentals (2-0-1) have surrendered just one goal in three contests -- all at home so far.
Balbo scored in the fifth minute for his second goal this season to give Hamilton a 1-0 lead. Balbo shot in traffic from the penalty area following a corner kick. Campagnano tallied his first goal this year in the 30th minute and the Continentals enjoyed a 2-0 advantage at the half. Sanford sealed the victory in the 73rd minute when he headed in a high, hard volley from Nizzi after a restart.
Hamilton dominated the action and held an 18-5 advantage in shots. The Continentals took four corner kicks to one for Ithaca. The Bombers still lead the all-time series, 11-9-4, but Hamilton has four wins and one tie in the last five meetings.
The Continentals go on the road for the first time in 2010 on Sept. 14, when they travel to SUNY Oswego for another non-league game that starts at 4 p.m.