Men's soccer opens season with shutout
---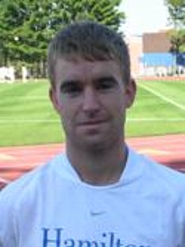 Jon Sanford '11 scored in the 71st minute to lift Hamilton College to a 1-0 win against SUNY Institute of Technology in a non-league men's soccer game on a sweltering afternoon at Hamilton's Love Field on Sept. 2.
The game marked the season opener for both programs on a day when the temperatures threatened to reach 90 degrees. The Continentals improved to 21-0-0 all-time against SUNYIT, and the shutout was the 15th in a series that dates back to 1985. However, it was also the narrowest margin of victory since a 2-1 overtime win for Hamilton in 1989.
Sanford's goal was the ninth of his career. He led the team with eight in 2009. Brian Whiston '13 picked up the assist for his first career point. Eric Boole '13 stopped all six shots he faced, including five in the second half.
Malick Faye '14 made four saves for the Wildcats. Despite giving up Sanford's goal, SUNYIT held the upper hand during the final 45 minutes. The Wildcats held a 9-3 advantage in shots and a 5-0 cushion in corner kicks in the second half.
The Continentals were the better side in the first half with a 9-6 shot advantage and a 3-0 edge in corner kicks. Hamilton had a number of quality scoring chances, including a shot by Jesse Arroyave '11 that banged off the crossbar in the 27th minute.
The next game for the Continentals is Sept. 8 at home against SUNY Cortland. SUNYIT travels to Buffalo for a tournament at D'Youville College on Sept. 4 and 5.