Men's soccer player helps club team to under-20 national title
---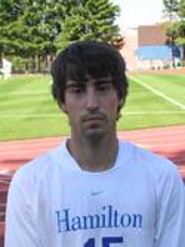 Hamilton College's Frank Campagnano '12 (Schenectady, N.Y./Guilderland Central HS) helped lead his Bethlehem Soccer Club's Under-20 Premier team to the United States Amateur Soccer Association U20 National Cup, which was played in Manalapan, N.J., from July 16 to July 18.
Campagnano was an on-field leader in the team's run to the national title. He recorded one goal and one assist in two qualifying round matches, as well as a clutch penalty kick in the semifinal shootout.
Bethlehem played to a 3-3 tie with Rockaway United and defeated PFC Rhino's 3-1 in the qualifiers. A 2-2 tie with Cherry Hill in the semifinal followed, but Bethlehem advanced thanks to a 4-2 advantage in penalty kicks. Campagnano and his teammates blanked LaGrange 2-0 in the final to clinch the title.
Bethlehem competes in the New York Premier League, which is a division of the Eastern District Soccer League, one of the oldest amateur soccer leagues in the U.S. The team is coached by former College of St. Rose head coach Jeremy Bogan.
Campagnano recorded one goal and one assist in 11 games last season as a midfielder for the Continentals. He has tallied six goals and three assists in his Hamilton career.