Men's soccer players honored by Liberty League
---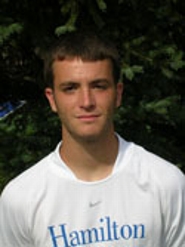 Five Hamilton College soccer players were honored by the Liberty League on Nov. 4, when the league announced its 2010 end-of-season award winners.

Leo Nizzi '14 (Frankfort, N.Y./Frankfort-Schuyler HS) was selected rookie of the year and was all-league honorable mention. Jesse Arroyave '11 (North Bergen, N.J./Masters School [N.Y.]) and Frank Campagnano '12 (Guilderland, N.Y./Guilderland HS) were voted all-league first team. Anthony Balbo '13 (Poughkeepsie, N.Y./Spackenkill HS) made the second team, and Dan Tempest '13 (Hopewell Junction, N.Y./Arlington Senior HS) was honorable mention.

Nizzi set a team record with eight assists this year from his midfield position. He leads the league with 0.53 assists per game. He played in all 15 games this year.

Arroyave was on the second team in 2008 and 2009. He scored two goals and added three assists in 15 games this year from his midfield position.

Campagnano -- another midfielder -- enjoyed his best season with the Continentals as he has scored 10 goals and added six assists for 26 points in 15 games. He leads the league in points, is tied for the lead in goals and is tied for third in assists. He was 3-for-3 this year in penalty kicks.

Balbo is tied with Campagnano for that league lead in goals with 10 from his forward position. He ranks second in the league with 1.33 points per game in 15 matches.

Tempest led a defense that allowed 18 goals and posted five shutouts. He played in just nine games due to injury.

Hamilton (9-3-3 overall) was the fourth seed in the league tournament, and lost at top seed St. Lawrence University 3-2 in double overtime on Nov. 3. The Continentals will have to wait until Monday, Nov. 8, to find out if they have earned an at-large bid to the NCAA championships.