Men's soccer plays to tie with Bowdoin
---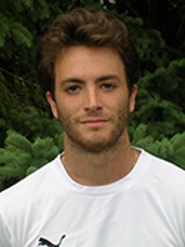 Eric Goitia '15 converted a penalty kick with 6.4 seconds remaining in regulation and Bowdoin College and Hamilton College played to a 2-2 tie in a NESCAC game at Hamilton's Love Field on Oct. 13.

John McGuinnis '16 and Leo Nizzi '14 scored one goal apiece and Erich Marcks '16 contributed an assist for the Continentals. Eric Boole '13 made eight saves, including six in the second half.

Goitia and Michael Gale '13 each scored one goal for the Polar Bears and Zach Ostrup '13 had one assist. Will Wise '14 made five stops in goal.

With seven seconds remaining in regulation, the Continentals were called for a handball in the box, which led to a Bowdoin penalty kick. Goitia's shot headed to the lower right corner and skipped by the diving Boole.

Bowdoin (7-2-2 overall, 3-2-2 NESCAC) opened the scoring in the 40th minute when the Polar Bears converted a corner kick. Ostrup crossed the ball from the right side to the far post where Gale's header found the back of the net.

Hamilton (3-6-2, 1-5-2) tied the score with just 43 seconds remaining in the half on McGuinnis' second goal in as many games. The play started on a James Ehret '14 throw-in to Sam Reider '14. Reider crossed to Marcks at the far post, and he passed it to McGuinnis for the finish.

The Continentals scored what they hoped would be the game-winner with 1:41 left in regulation. Nizzi's shot from 25 yards out snuck under the crossbar and into the upper left corner for his first goal this year and a 2-1 lead.

Hamilton's best opportunity in the overtime periods came in the 95th minute when Griffin Abbott '15 and Wise were both running towards a free ball at the top of the box. Abbott got a foot on the ball and lobbed it towards the goal line, but Bowdoin's Ben Brewster '14 got to the shot before it crossed the line and sent it over the end line.

Bowdoin had one last chance to get a win in the final seconds of the second sudden-victory overtime period. Andrew Jones '16 fired a shot from about 8 yards away, but Boole came up with a kick save as time expired.

The teams also tied in their first-ever meeting last year at Bowdoin. The Polar Bears finished with a 22-20 edge in shots, and both teams took seven corner kicks.

Hamilton resumes play on Sunday, Oct. 14, when the Continentals host Colby College in a NESCAC match. Bowdoin travels to Amherst College on Sunday.