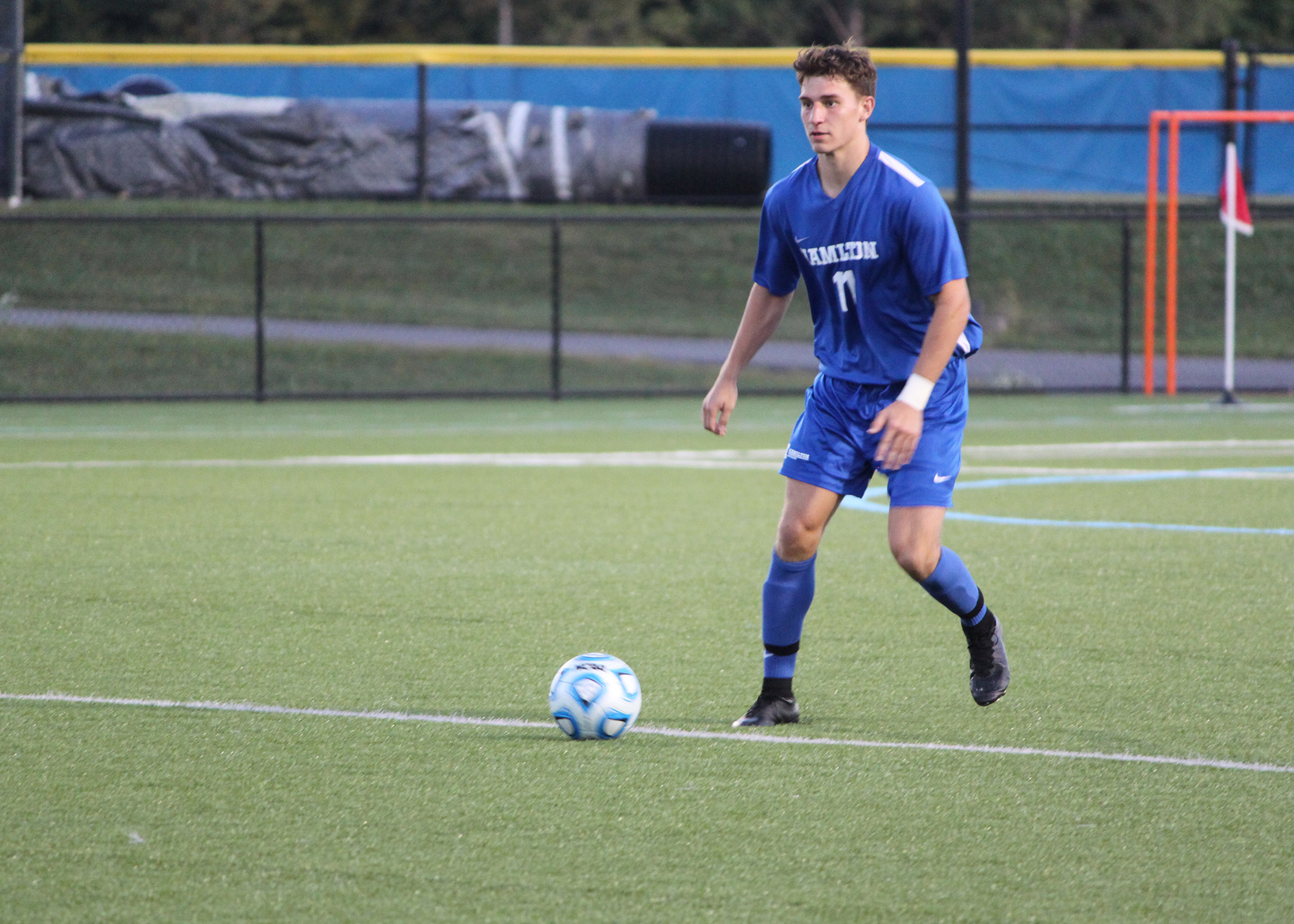 Hamilton College's Mike Lubelczyk '17 scored with 6:57 left in the second sudden-victory overtime period and lifted the visiting Continentals to a 2-1 NESCAC win against the Trinity College Bantams on Saturday afternoon.

Box Score

Hamilton's Jack Temko '18 blocked a kick by a Trinity back and pushed the ball to the top of the box before feeding Lubelczyk on the left wing for the clinching goal. Temko, who picked up his first assist, scored the lone goal in Hamilton's 1-0 win at SUNY Polytechnic on Tuesday night.

Lubelczyk's overtime heroics wouldn't have even been possible if it weren't for a goal by Hamilton's Eli Morris '18 off a corner kick by Myles Pindus '19 with 4:16 to go in regulation. Morris, who scored on a header, had re-entered the game as a substitute just prior to Pindus' kick. Pindus' assist was also his first collegiate point.

The goals for Morris and Lubelczyk were the first of their careers for the Continentals (2-2-0, 1-1 NESCAC). Harris Pollack '17 made 10 saves, including two in the final two minutes of regulation and another in the first 10-minute overtime period.

After a scoreless first half, Trinity's Cody Savonen gave the Bantams a 1-0 lead on an assist from Malcolm Joseph in the 55th minute. Mateo Zabala stopped seven shots for Trinity (2-2-1, 0-2).

The Bantams held a 22-18 edge in shots and took eight corner kicks to four for the Continentals. Hamilton's only shot in overtime was Lubelczyk's game-winner. The win is the first for the Continentals in five tries against Trinity.

Hamilton hosts local rival Utica College in a non-conference match on Wednesday, Sept. 23, at 4:30 p.m.