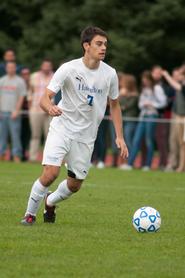 The Hamilton College men's soccer team (1-0-1, 0-0-1 NESCAC) opened its conference season Saturday, playing the visiting Trinity College Bantams (1-0-1, 0-0-1 NESCAC) to a 1-1 tie in two overtimes at Love Field. The Continentals have lost just once in their last 10 home games.

Box score

Both teams scored a second-half goal with Dan Kraynak '15 picking up his second of the season to tie the game. The Bantams got on the board first on a goal by Cody Savonen '17, who took a through pass and put Trinity up 1-0 with a 25-yard blast in the 58th minute. Kraynak picked up the equalizer eight minutes later; Andrew Martin '16 sent a cross to Alec Talsania '17 at the left post and Talsania's shot ricocheted off the post and landed directly in front of Kraynak, who deposited it into the wide-open net.

Talsania has four points, including a team-high two assists, this fall. Martin's assist was his first collegiate point.

Both teams had great scoring chances in the final minutes of regulation with Hamilton losing a go-ahead score on an offsides call with 2:42 to go. Savonen had Trinity's two best opportunities at a tie-breaking goal in regulation. With 8:48 left, a long pass skipped past a Continental defender leaving Savonen with an open breakaway for nearly 40 yards before Hamilton goalkeeper Harris Pollack '17 (three saves) came out of the net to stifle him in the top left corner of the box. Six minutes later Savonen got behind the Hamilton defense for another breakaway but shot wide.

Hamilton had the two best scoring opportunities of overtime: Bantam keeper Jason Katz '15 (five saves) stopped a hard shot by Talsania, who had used a great move to shed a defender at the top of the box in the 92nd minute. Three minutes later John McGuinnis '16 split a pair of Trinity defenders on a breakaway before putting his 25-yard shot wide.

Hamilton faces another NESCAC opponent next weekend, traveling to Bates for a 2 p.m. contest. The Bantams host Worcester State in non-conference action Sunday.