Men's soccer rallies to win season opener
---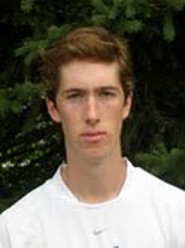 Griffin Abbott '15 scored in the 74th minute to lift Hamilton College to a 2-1 win against SUNY Oswego in a non-conference game at Oswego's Laker Soccer Field on Sept. 5.

Hamilton (1-0-0 overall) trailed 1-0 at the half but rallied with two goals in the final 45 minutes. The Lakers (1-2-0) were playing their third straight home game to open the season.

Anthony Balbo '13 scored the other goal for the Continentals. Hennie Bosman '13 and Leo Nizzi '14 were credited with one assist apiece. Eric Boole '13 made five saves.

Jim Manton '15 scored for Oswego with 1:15 left in the first half when Manton headed home a free kick by Drew Bordash '15. Pat Breen stopped five shots.

Hamilton knotted up the score eight minutes into the second half when a Bosman pass threaded the defense and forced Breen to come out and challenge the play. Balbo was able to sneak by Breen and put the ball into the net.

Less than 10 minutes later, Breen aggressively played a ball, but it slipped through his hands to the feet of Bosman. Bosman's shot at an empty net smacked off the crossbar and came back into play.

With less than 17 minutes left, Abbott received a pass from Nizzi at the top of the box. Abbott pushed the ball right and took a shot across his body that found the lower left corner of the goal.

The Lakers squeezed off two shots after Abbott's game-winner. One was saved by Boole and the other sailed high. Oswego held a slim 14-13 edge in shots, while Hamilton took four corner kicks to the Lakers' three.

The Continentals return home to open NESCAC play against Trinity College on Saturday, Sept. 8.