Men's soccer remains unbeaten
---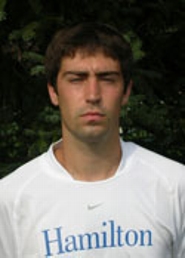 Frank Campagnano '12 scored both Hamilton College goals to lead the Continentals to a 2-1 win against Nazareth College in a non-league game at Nazareth's Golden Flyer Stadium on Sept. 18.
Campagnano leads Hamilton (3-0-2 overall) with three goals this year. He gave the Continentals a 1-0 lead with an unassisted goal in the 34th minute. The Golden Flyers (1-4-1) tied the score just 58 seconds later and the teams were deadlocked 1-1 at the half. Campagnano notched the game-winner with 15:52 left in the second half when Hamilton was awarded a penalty kick and he buried it in the back of the net.
Eric Boole '13 made a season-high nine saves for the Continentals. Hamilton took 13 shots in the first half and finished with a 19-17 edge for the game. Nazareth held an 11-9 advantage in corner kicks.
The Continentals try to remain unbeaten on Friday, Sept. 24, when they host Union College for Hamilton's Liberty League opener. The last time the Continentals didn't have a loss this far into the season was 2007, when they also started 3-0-2.