Men's soccer shuts out SUNY Cortland
---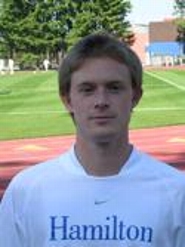 Colin Wear '10 scored the game-winning goal for Hamilton College in its 1-0 win against SUNY Cortland at the SUNY Cortland Stadium Complex on Sept. 22.
In a scoreless first half, Cortland (2-4-1 overall) had scoring chances in the 21st and 44th minutes. The first opportunity came on a Cortland corner kick that went over the crossbar. Just before halftime, Cortland took a shot from deep in the box and Eric Boole '13 made the save at the right post.
Hamilton (2-2-1) nearly took the lead in the 57th minute. Sam Dwyer '10 one-timed a low shot from the top of the box, but a Cortland defender cleared it off the goal line. In the 77th minute, Cortland had an opportunity alone in front of Boole, who made a sliding kick save. Then in the 79th minute, the Continentals broke the ice when Dwyer fed a long pass into Cortland's box. Wear ran onto the pass and one-touched a shot from 13 yards out past the Cortland goalie. The goal is the first in Wear's Hamilton career.
Boole recorded six saves in his third career shutout in four games. Cortland outshot Hamilton, 16-6. Cortland also held the advantage in corner kicks with 13 to Hamilton's seven.
The Continentals host Rensselaer in the Liberty League opener at 4 p.m. on Friday, Sept. 25.