Men's soccer shuts out SUNY Oswego
---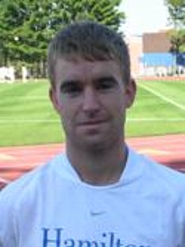 Three Hamilton College players each scored a goal, and the Continentals earned their first win of the season, 3-0, over visiting SUNY Oswego in a non-league game at Love Field on Sept. 15.
Hamilton (1-1-1 overall) is 10-0-1 in its last 11 games against the Lakers. Oswego (0-5-0) has yet to score a goal this season.

After a scoreless first half, the Continentals broke the ice 6 minutes, 36 seconds after the break. A shot from Sam Dwyer '10 was stopped by an Oswego defender. Jon Sanford '11 then collected the ball off the deflection and put a shot past the Oswego goalie for his first collegiate goal.
With 8:29 left, the Continentals opened up their lead when Hennie Bosman '13 dribbled the ball past an Oswego defender, and scored the second goal of the game. It was also his first collegiate goal. Jesse Arroyave '11 scored Hamilton's third goal on a pass from Billy Ford '10. Arroyave put the ball into the right corner of the goal and out of the reach of the Oswego goaltender with just 3:47 remaining.
Eric Boole '13 made his second collegiate start and recorded six saves to post his second consecutive shutout. Oswego held a slight advantage on shots taking 18 to Hamilton's 17. Hamilton dominated on corner kicks earning six in the game while Oswego took just one.
The Continentals next host Nazareth College for another non-league game at 1 p.m. on Sept. 19.