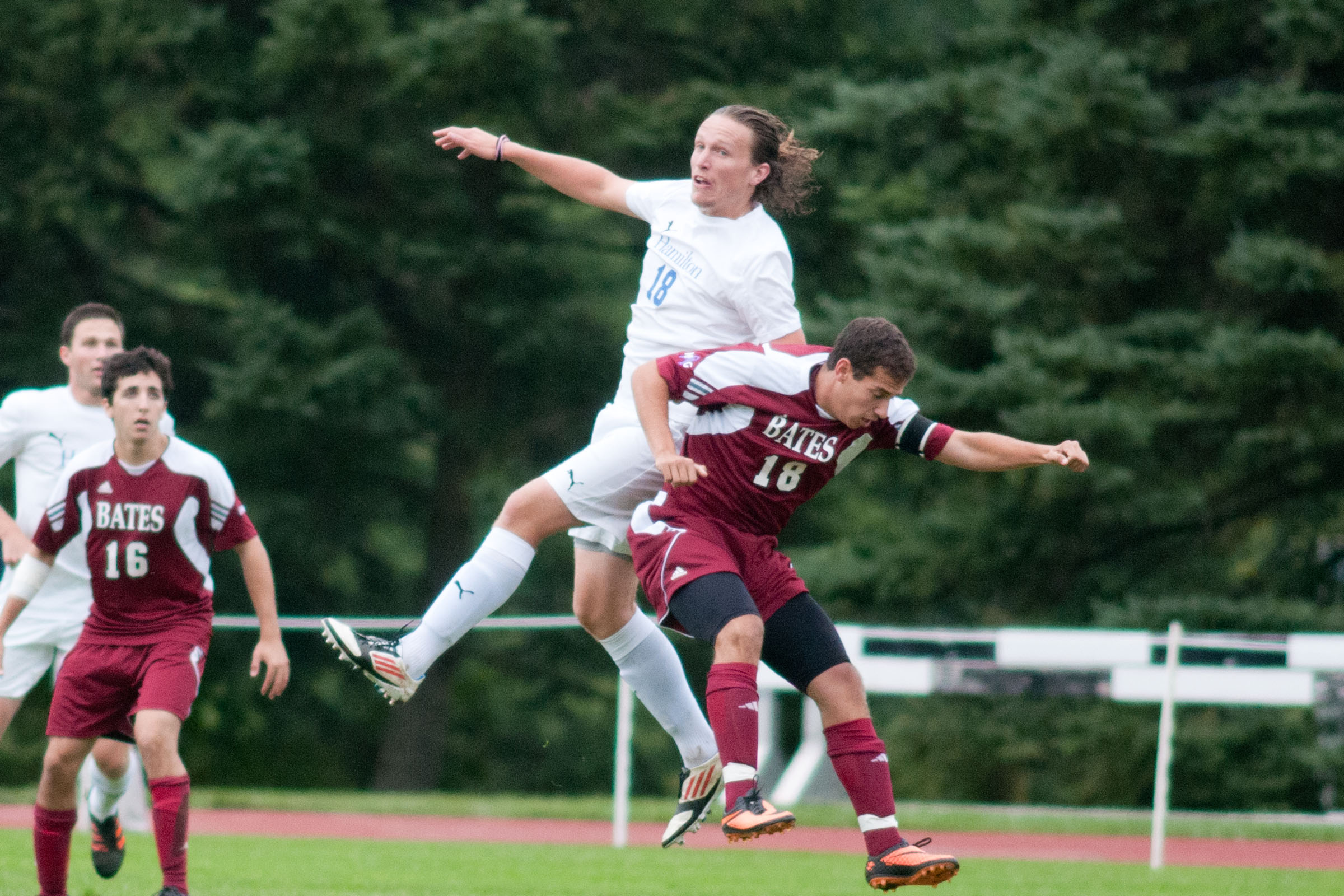 The Hamilton College men's soccer team (2-0-1, 1-0-1 NESCAC) remained unbeaten on the season, blanking host Bates 2-0 on Saturday afternoon in NESCAC action from Lewiston, Maine. The Continentals are off to their best start since the 2010 team opened 3-0-2.

Box score
Alec Talsania '17 and Jacob Frost '15 scored second-half goals and the Continental defense held the Bobcats (0-3-1, 0-2-0 NESCAC) to just one shot on goal.

Harris Pollack '17 recorded his second shutout in three starts this fall; he's had to face just seven shots in 290 minutes in goal.

Following a scoreless first period, Talsania scored his second goal of the season 3:21 into the second half to put the Continentals ahead. After a shot by Bayard Geeslin '16 was blocked by a Bobcat defender, Erich Marcks '16 collected the ball in front of the net and slotted it to the top of the box for Talsania. Marcks' assist was his first this fall and the second of his career.

Talsania's game winner came three minutes after Bates nearly took the lead on a shot by Justin Yacovino '18 that went just over the crossbar.

Frost added an insurance goal in the 57th minute, taking possession of a failed Bates clear and firing a shot to the top of the net for his first goal of the season.

Hamilton outshot the Bobcats 25-10. The Continentals maintained their unbeaten record against Bates, improving to 3-0-1 in the series. Sam Polito '16 made five saves in goal for Bates.

The next action for the Continentals will be a non-league home game against SUNY Institute of Technology on Wednesday at 4 p.m. at Love Field. The Bobcats play at conference rival Bowdoin on Tuesday.