Men's soccer suffers loss in season finale
---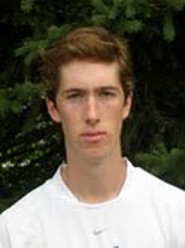 Utica College scored two goals in the second half and the Pioneers topped Hamilton College 2-1 in a non-conference game at Utica's Charles A. Gaetano Stadium on Oct. 23.

The Pioneers (8-7-1 overall) received goals from Chris Stashko '15 and Shane Ruffing '15, and Jonathan Peterson '14 and Kyle Cupka '16 recorded one assist apiece. Anthony Caruso '14 made six saves in the win. Utica posted its fourth straight win.

Griffin Abbott '15 scored the first half's lone goal and Brian Whiston '13 added an assist for the Continentals. Eric Boole '13 made five saves before leaving the game with 26:09 left after he received a red card. Fred Porges '14 finished in goal and stopped two shots.

Hamilton (4-8-2) struck first 10 minutes, 10 seconds into the first half. Hennie Bosman '13 began the play with a short corner kick from the right side to Leo Nizzi '14. Nizzi found Whiston in the middle of the box, who fired a shot that was deflected. Abbott corralled the rebound and sent his shot into the back of the net for his second goal this year.

Less than two minutes later, Boole came up with a nice save on a header by Greg Silvestro '16 to preserve the lead. Utica had two more good scoring opportunities in the first half. Alex Sheridan '14 took a free kick from 25 yards out that sailed just over the crossbar, and an attempt by Peterson was kick-saved by Boole in the 28th minute. The Continentals led 1-0 at the break.

The Pioneers evened the score in the 50th minute on Stashko's goal. Stashko received a pass from Peterson in the middle, turned and fired a shot by Boole, who didn't have a chance to react.

Whiston attempted to take the lead back for the Continentals in the 59th minute on a give-and-go with Anthony Balbo '13. However, his shot sailed wide right.

Utica took its first lead of the night in the 62nd minute when Cupka sent a nice cross to Ruffing in the center for a header into the goal. The 6-foot, 3-inch Porges punched two shots over the end line in the 79th minute to keep Hamilton close.

The Continentals had one final chance in the 88th minute to tie the score. Nizzi's free kick eventually found Whiston who put a header on goal, but Caruso came up with the save.

Utica defeated the Continentals for the first time since 1984, ending a losing streak of 27 consecutive games. Hamilton owns an all-time record of 32-2-0 against the Pioneers. Utica enjoyed a 20-10 shot advantage, and corner kicks were even at six apiece.

The Continentals' season is complete.