Men's soccer suffers loss at Tufts in final minute
---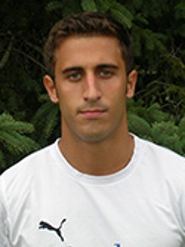 Pat Bauer '13 scored the game-winning goal with 58 seconds remaining in the second half and lifted Tufts University to a 2-1 victory against Hamilton College in a NESCAC game at Tufts' Kraft Field on Oct. 20.

With the loss, Hamilton was officially eliminated from qualifying as one of the eight teams for the NESCAC championship. The Continentals conclude their season on Tuesday, Oct. 23, when they travel to local rival Utica College for a non-conference matchup.

Maxime Hoppenot '15 recorded one goal and one assist and Jason Kayne '16 picked up an assist for the winners. Wyatt Zeller '14 made two saves -- both in the second half -- for the Jumbos.

Anthony Balbo '13 scored his team-leading seventh goal and Jacob Frost '15 contributed his first career assist for the Continentals. Eric Boole '13 made four stops in goal.

Tufts (7-3-3 overall, 4-2-3 NESCAC) took the lead for good after Hoppenot made a run into the box and distributed a short pass to Bauer, who shot quickly and scored.

After a scoreless first half, Hoppenot got the Jumbos on the board in the 54th minute. Hoppenot received a pass from Kayne and dumped a shot into the lower left corner of the goal.

Hamilton (4-7-2, 2-6-2) tied the score in the 79th minute when Frost fed Balbo, who chipped a shot over Zeller for the goal. Both keepers needed to come up with big saves in the final 10 minutes. Zeller stopped a drive from the top of the box by Leo Nizzi '14. Boole stopped shots by Kayne and Scott Blumenthal '14.

After the Jumbos took the lead in the final minute, Balbo had one last chance to tie the score again. But Zeller made a fine save to preserve Tufts' victory. The Jumbos held a 12-8 shot advantage and took 10 corner kicks to two for the Continentals.