Men's soccer team hands out awards
---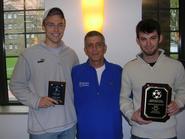 Hamilton College men's soccer players Marcus Dormanen '10 (Hopkins, Minn./Breck School) and Paul Moakler '10 (Cicero, N.Y./Cicero-North Syracuse HS) were honored as the team recently announced their 2009 team awards.

Dormanen was presented the Coaches Award, which is given to the team's most valuable player. The senior back finished the season with two goals and one assist. He helped lead a defense that recorded six shutouts and held opponents to just 12 goals in 15 games.

Moakler received the Manfred von Schiller Prize. The award is presented to a member of the team who displays team spirit, leadership and integrity. It is given in honor of Coach von Schiller, who patrolled the sidelines as the Hamilton men's soccer coach from 1959 to 1998. Moakler -- a senior forward -- finished the season with one goal and two assists.