Men's soccer hands out team awards
---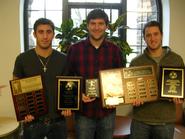 Three Hamilton College men's soccer players were honored as the program recently announced its 2012 team awards.

Dan Tempest '13 was presented with the Coaches Award, which is given to the team's most valuable player. He led a defense that recorded two shutouts in 2012. Tempest finished his career with two goals in 48 career starts. He earned NESCAC fall all-academic honors in 2011 and 2012.

Eric Boole '13 received the Manfred von Schiller Prize. The award is presented to a member of the team who displays team spirit, leadership and integrity. It is given in honor of Coach von Schiller, who patrolled the sidelines as the Hamilton head men's soccer coach from 1959 to 1998. Boole was the starting goalkeeper all four years. He started 56 out of 58 games, made more than 260 saves, recorded 11 shutouts and posted a record of 26-19-9.

Anthony Balbo '13 received the Jacob Aron Shapiro '05 Memorial Award, which is given to the player who best exemplifies the qualities that Jacob held in great measure: A natural physical gift, a tenacious and joyful spirit, an affinity for competition and a fierce commitment to those around him. The recipient of this award -- like Jacob -- is loyal, compassionate, wise and true. Balbo led the team with seven goals and 15 points in 2012. The forward notched Hamilton's first hat trick since 2003 in a 3-0 win over SUNY Institute of Technology on Oct. 3. He finished his career with 18 goals and two assists for 38 points.