Men's soccer edges St. Lawrence for fourth straight win
---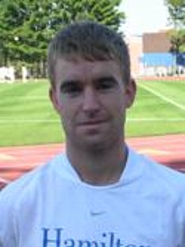 Jon Sanford '11 scored in the 87th minute to lift Hamilton College to a 1-0 win over host St. Lawrence University in a Liberty League game at MacAllaster Field on Oct. 10.
This was the fourth straight win for Hamilton (6-3-1 overall, 3-1-0 Liberty). The Continentals are 4-0-1 away from home this season, and have not allowed a goal in the first half all year.
Sanford scored off an assist from Marcus Dormanen '10 with just 3:17 left in the second half. Sanford leads the Continentals with five goals this season. St. Lawrence (7-4-0, 1-3) played the final 12 minutes a man down after one of its players received a red card for his second yellow card of the game.
The Continentals had a few scoring opportunities in the first half. With 19 minutes to play in the half, Sam Dwyer '10 took a long ground shot from outside the 18, but the Saints blocked the ball. With roughly two minutes to play, Hamilton received a free kick. Bennett Weinerman '11 sent the ball into the 18 from the right side of the Saints defensive end, but St. Lawrence cleared it immediately.
Eric Boole '13 made a season-high 13 saves and earned his fourth shutout. The Saints held a 20-12 advantage in shots. St. Lawrence also led in corner kicks with six, while Hamilton took three.
The Continentals return to action on Wednesday, Oct. 14, when they host Utica College for a non-league game at 4 p.m.