Men's soccer wins in overtime
---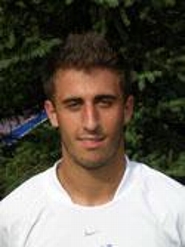 Anthony Balbo '13 scored his seventh goal of the season in the 97th minute to lift Hamilton College to a 1-0 overtime victory against Rensselaer Polytechnic Institute in a Liberty League game at Rensselaer's Renwyck Field on Oct 8.

A Hamilton counter attack in the 97th minute turned into the game's only goal as Jesse Arroyave '11 sent a ball through the left side of the RPI defense. Balbo ran onto it and struck it past the dive of Engineers' goaltender Alex Penny and into the open net. Balbo leads the team with those seven goals and is tied for the lead with 14 points.

The Engineers (4-3-2 overall, 1-1-1 Liberty) held an 11-2 advantage in shots during the first half. In the second half, the Continentals dominated offensively, and outshot RPI 13-5. Hamilton (6-1-2, 2-1-0) delivered the best scoring chance in regulation when Frank Campagnano '12 chipped a shot squarely off the crossbar in the 70th minute.

Overall, Hamilton had 12 shots on goal to Rensselaer's six. Eric Boole '13 made six saves and posted his third shutout this year. The Continentals have blanked five of their nine opponents.

Hamilton plays at Vassar College for another league game on Saturday, Oct. 9.