Men's soccer wins with hat trick
---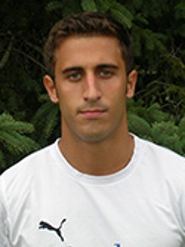 Anthony Balbo '13 recorded a hat trick and Hamilton College shut out SUNY Institute of Technology 3-0 in a non-conference game at Hamilton's Love Field on Oct. 3.

Balbo's hat trick was the first by a Hamilton men's soccer player since Dimitry Maurice '04 scored three times in a 4-1 win against Nazareth College on Sept. 16, 2003. Balbo leads the team with five goals and 11 points.

Griffin Abbott '15 assisted on Balbo's first two goals and Sam Reider '15 was credited with an assist on the final goal. Eric Boole '13 started in goal and made one save in 72-plus minutes. Fred Porges '14 relieved Boole for the final 17 minutes, 34 seconds and stopped five shots.

Malick Faye '15 made three saves for SUNYIT. The Continentals improved to 23-0-0 against the Wildcats in the series that dates back to 1985. Hamilton has recorded 12 shutouts in the last 13 meetings.

Hamilton (3-4-1 overall) grabbed the lead just 2:39 into the first half. Dan Kraynak '15 started the play with his pass from midfield up the right sideline to Abbott, who crossed the ball to Balbo in the middle. When Faye came sliding out of the box to attempt the save, Balbo tapped the ball into the goal.

SUNYIT (6-5-0) had an opportunity to tie the score with 1:41 remaining in the half on a free kick by Diego Montaleza '14, but Boole knocked the shot away for his only save. The Continentals led 1-0 at the half.

Balbo scored his second goal in the 55th minute on another pass from Abbott along the right side. After a throw-in, Jacob Frost '15 passed the ball to Abbott, who took two dribbles and lofted a long pass to Balbo. He took four dribbles and squeezed the shot between Faye and the right post.

In the 67th minute, Reider sent another long pass to Balbo on the right side from Hamilton's half of the field into SUNYIT territory. Balbo, who ran past the defense again, collected the ball at the top of the box, took one dribble and put his shot in the back of the net.

The Continentals travel to Middlebury College for a NESCAC game on Saturday, Oct. 6. SUNYIT hosts Wells College on Saturday.