Men's squash blanks Colgate, 9-0
---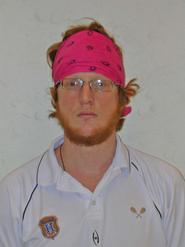 Hamilton College was dominant in a 9-0 win at Colgate University on Feb. 18. The Continentals evened their record at 10-10 this season with the victory.
Rick Munschauer '09 picked up a 3-0 win at fifth position (9-4, 10-8, 9-7) and is 12-8 this season for Hamilton. Alex Wood '12 also improved to 12-8 with his three-game sweep at seventh position (9-0, 9-3, 9-5). The two are tied for the team lead with Roly Morris '09 for most wins.
John DeWitt '09 won at first position in four games (2-9, 9-5, 9-3, 10-8). He is 11-9 this season at first position for the Continentals. Sander Doucette '09 blanked the Red Raider he faced at second position (9-7, 9-5, 9-4) for his 10th win.
James Hogan '11 posted a 3-1 win at third position for his eighth victory this season. Jono Peters '10 swept his opponent at fourth position (9-1, 9-1, 9-2) for his 10th win. Brett Morell '10, Mario Magaña '10 and Hal Lee '11 recorded 3-0 wins at sixth, eighth and ninth positions, respectively.
Hamilton travels to Princeton University for the College Squash Association Team Championships on Friday, Feb. 20. The Continentals will face Tufts University at noon.