Men's squash breaks into win column
---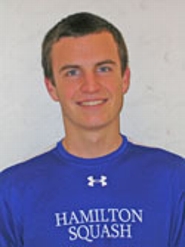 Hamilton College picked up its first win of 2010-11 out of three matches played at Yale University on Jan. 21 and Amherst College on Jan. 22.

Hamilton (1-9 overall) defeated Tufts University 6-3 in Amherst, Mass., on Saturday afternoon. The Continentals are ranked 21st by the College Squash Association, and Tufts is 23rd. Hamilton lost 6-3 to No. 24 Colby College in New Haven, Conn., on Friday, and 9-0 at No. 19 Amherst on Saturday morning.

Three players won two matches each during the weekend. Hal Lee '11 led the trio at the fourth position. Alex Wood '12 (fifth) and Ronald German '13 (sixth) were the other two. All of them won in three straight games against Colby.

German prevailed in a tense, five-game match against Tufts. He won the fifth set rather easily at 11-2. Timothy Gray '12 (seventh), Mark Clark '11 (eighth) and Lyman Munschauer '13 (ninth) rounded out the winners against the Jumbos.

The Continentals host Harvard University at the Little Squash Center on Saturday, Jan. 29, at 1 p.m.