Men's squash falls to George Washington
---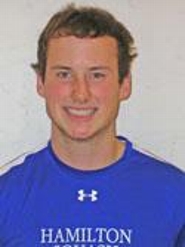 Hamilton College dropped the second match of its week-long training trip to Washington, D.C., this time to host George Washington University, 6-3, on Jan. 13.
George Washington is No. 22 in the most recent College Squash Association rankings, and Hamilton (3-3 overall) is 21st.
Alex Wood '12, Harry Keeshan '13 and Tim Gray '12 picked up wins for the Continentals. Wood and Keehsan both swept their opponents at the fourth and seventh positions, respectively. At the eighth position, Gray lost his opening game 11-5, but won the next three by scores of 11-6, 11-3 and 11-3 to secure his victory.
The Continentals wrap up their training trip with a match on Thursday, Jan. 14, at Franklin & Marshall College at 2 p.m.