Men's squash picks up one win on Saturday
---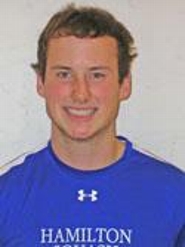 Hamilton College defeated the University of Vermont 9-0, and lost to the University of Western Ontario and St. Lawrence University in matches played at St. Lawrence in Canton, N.Y., on Jan. 30.

Hamilton (6-10 overall) is No. 25 in the most recent College Squash Association rankings. Vermont is No. 49, St. Lawrence is 16th and Western Ontario is No. 7.
Against Vermont, seven Continentals swept their opponents in three straight games. Cooper Veysey '12, Alex Wood '12, Hal Lee '11, Harry Keeshan '13, Ronald German '13, Tim Gray '12 and George Whiteley '10 all won 3-0 at the second through eighth positions, respectively. Perrin Van Allen '10 won his match by default. Mario Magaña '10 played at the first position and won a close match in five games by scores of 10-12, 11-2, 11-6, 5-11 and 11-5.
The Continentals fell 9-0 to St. Lawrence. Lee opened his match at the fifth position with a 11-9 win, but lost the next three games 11-4, 11-7 and 11-3. Brett Morell '10 played at the eighth position, and dropped the opening two games 11-5 and 11-7. Morell rallied to win a close third game 12-10, but fell in the fourth 11-8.
Western Ontario also defeated Hamilton, 9-0. German played at the sixth position. He lost his first game 11-2, and dropped a close second game 13-11. He won the third game 11-6, but fell in the fourth, 11-4.
The Continentals return to action on Monday, Feb. 1, when they host Middlebury College.