Men's squash places sixth at NESCAC Championship
---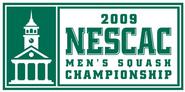 Seventh-seeded Hamilton College fell to No. 9 Colby College, 6-3, in the New England Small College Athletic Conference championship fifth place match at Trinity College's Kellner Squash Center on Feb. 1.
John DeWitt '09 picked up a 3-2 win (5-9, 9-7, 9-4, 5-9, 9-6) at the first position for Hamilton, which split four matches at the NESCAC championship. Alex Wood '12 won in four games (9-5, 7-9, 10-8, 9-6) at the seventh position. Mario Magaña '10 recorded the Continentals' third point with a 3-0 victory(10-8, 9-4, 9-6) at the ninth position.
Hamilton (9-8 overall) hosts two matches on Saturday, Feb. 7, when the Continentals take on Navy and St. Lawrence University.