Men's squash plays for fifth place at NESCAC Championship
---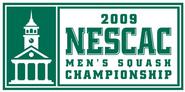 Seventh-seeded Hamilton College has won two out of three matches at the New England Small College Athletic Conference championship and will play Colby College for fifth place at Trinity College's Kellner Squash Center on Feb. 1.
Hamilton (9-7 overall) started the championship with an 8-1 win against No. 10 Connecticut College on Jan. 30. The Continentals fell to No. 2 Williams College, 9-0, in the quarterfinal round on Jan. 31. Hamilton avenged an early-season loss against No. 6 Middlebury College with a 6-3 upset of the Panthers in the consolation bracket later that night. All matches were played at Trinity.
The Continentals picked up wins against Conn. College in the second through ninth positions. Sander Doucette '09, Jono Peters '10, Brett Morell '10, Rick Munschauer '09, Mario Magaña '10 and Hal Lee '11 all blanked their opponents, 3-0. At the second position, James Hogan '11 picked up a four-game win (9-7, 9-1, 8-10, 9-2), and Alex Wood '12 also won in four games (2-9, 9-3, 9-4, 9-1) at the seventh position.
After Hamilton's second loss in seven days against Williams (7-7), the Continentals regrouped to knock off Middlebury (11-8). Hamilton swept the fourth through ninth positions. Peters, Wood and Lee all toughed out five-game victories at the fourth, seventh and ninth positions, respectively, to earn the critical team points.