Men's squash wins twice on weekend
---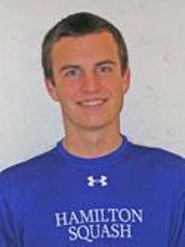 Hamilton College defeated Colby College and Wesleyan University, and lost three other matches played at Mount Holyoke College and Amherst College on Jan. 23 and 24.

In Sunday's matches at Amherst, the Continentals -- No. 22 in the most recent College Squash Association rankings -- earned 5-4 wins over No. 21 Colby and No. 25 Wesleyan. Hamilton (5-8 overall) lost 7-2 to No. 18 Amherst in its opening match on Sunday. On Saturday at Mount Holyoke College, Hamilton fell 5-4 to No. 26 Hobart College, and lost by the same score against No. 27 Connecticut College at Amherst.

Against Colby, Harry Keeshan '13 and Tim Gray '12 swept their opponents in three straight games at the sixth and eighth positions, respectively. Hal Lee '11 -- playing at the fifth position -- and George Whiteley '10, who was playing at the ninth position, earned close 3-2 victories over their opponents. At the seventh position, Ronald German '13 won by scores of 10-12, 11-9, 11-5 and 11-9.
In the Continentals' second win of the weekend, Alex Wood '12, Lee, Keeshan and Gray all defeated their Wesleyan opponents in three games. Cooper Veysey '12 won a close opening game 12-10, then fell in his next two, 11-6 and 11-3. However, Veysey rallied to win his last two games by scores of 12-10 and 11-6. Against Amherst, James Hogan '11 and Gray earned 3-0 wins at the first and eighth positions, respectively.

Against Hobart, Keeshan (sixth position) and German (seventh position) recorded three-game sweeps. Lee earned a win at the fifth position by scores of 11-7, 11-6, 9-11 and 11-8. Gray also won in four games at the eighth position (11-6, 4-11, 11-5, 11-8).
Rounding out Saturday's matches, Veysey was winning the first game at the third position, and then his Conn. College opponent withdrew due to an injury. Mario Magana '10 (second position), Lee (fifth position) and Keeshan (sixth position) all won their matches in three straight games.
The Continentals return to action on Saturday, Jan. 30, when they travel to Canton, N.Y., to play St. Lawrence University and the University of Western Ontario.