Men's squash records 3-1 weekend
---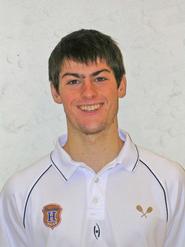 Hamilton College won three of four matches, including two victories against New England Small College Athletic Conference opponents, at Wesleyan University and Yale University from Jan. 16 to Jan. 18.
Hamilton -- No. 19 in the most recent College Squash Association rankings -- improved its record to 6-4 on the season. The Continentals breezed to a 9-0 win at No. 30 Wesleyan on Friday and another 9-0 victory against No. 36 Massachusetts Institute of Technology at Yale on Saturday.
Hamilton went on to split its next two matches, both played at Yale. The Continentals fell 6-3 to No. 13 Bowdoin College on Saturday before Hamilton regrouped for a 7-2 win against No. 23 Colby College on Sunday morning.
Sander Doucette '09, Jono Peters '10, James Hogan '11, Alex Wood '12, Roly Morris '09 and Hal Lee '11 all registered 3-0 wins in their respective matches against Wesleyan. Doucette, Peters, Hogan and Lee repeated their 3-0 wins the next day against MIT. John DeWitt '09, Mario Magaña '10, Rick Munschauer '09 and Cooper Veysey '12 produced the same score as well.
Hamilton registered three points in its loss to Bowdoin. At first position, DeWitt produced a hard-fought win in five games (2-9, 7-9, 9-3, 9-4, 9-6). Morris won his match at ninth position in four games (9-0, 9-10, 10-8, 9-2). The Continentals picked up a third point when Munschauer won by default at seventh position.
Hamilton enjoyed its third win of the weekend against Colby. DeWitt got the ball rolling with a 3-0 win. Hogan (fourth position), Munschauer and Wood (eighth) followed suit with three-game sweeps. Doucette picked up a 3-1 win at second position. The Continentals earned two more team points with five-game wins from Brett Morell '10 at fifth position (4-9, 9-3, 9-5, 0-9, 9-4) and Morris (5-9, 9-1, 9-3, 3-9, 9-4).
Hamilton hosts Dartmouth, Northeastern and Williams at the Little Squash Center for a weekend of action that starts on Friday, Jan. 23.