Men's squash splits pair of matches in opening weekend
---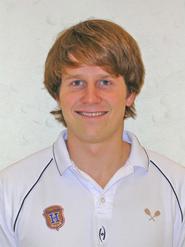 Hamilton College split a pair of matches in its season-opening weekend with a loss to Bowdoin College at Harvard University on Nov. 21, before the Continentals defeated host Northeastern University on Nov. 22.
The Continentals -- 21st in the latest College Squash Association team rankings -- fell 9-0 to No. 16 Bowdoin on Saturday. Hamilton (1-1 overall) secured its first win of the season defeating No. 25 Northeastern 7-2 on Sunday.
Timothy Gray '12 defeated his Northeastern opponent in a hard-fought, five-game match at the sixth position (9-11, 11-7, 10-12, 16-14, 12-10). Lyman Munschauer '13 battled back against his opponent after a loss in the first game to win in four at the eighth position (9-11, 11-8, 11-3, 11-7).
James Hogan '11, Henry Lee '11, Alex Wood '12, Ronald German '13 and Perrin Van Allen '10 defeated their opponents in three straight games at the first, fourth, fifth, seventh and ninth positions, respectively.
Cooper Veysey '12 battled back to win the third and fourth games, but fell to his opponent in five at the third position. Mario Magaña '10 won the first game but then lost three straight against his opponent at the second position.
The Continentals return to action on Dec. 5 and 6, when they host the Hamilton Invitational at the Little Squash Center.