Men's squash wins a pair of home matches
---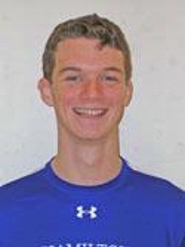 Hamilton College won both its matches over visiting University of Toronto this weekend on Dec. 5 and 6 at the Little Squash Center.
The Continentals (3-1 overall) -- No. 21 in the latest College Squash Association team rankings -- defeated the Varsity Blues 7-2 on Saturday, and won 6-3 on Sunday.
James Hogan '11 and Ronald German '13 defeated their opponents 3 games to 1 on both days at the first and seventh positions, respectively.
Cooper Veysey '12 played at the second position and split his weekend matches. On Saturday, Veysey rallied after losing the first game, and went on to a 3-1 win. On Sunday, he fell in a hard-fought, five-game match (13-11, 9-11, 9-11, 11-4, 11-8).
Mario Magaña '10, Hal Lee '11, Alex Wood '12 and Tim Gray '12 all won in three straight games on both Saturday and Sunday at the third, fourth, fifth and sixth positions, respectively.

Hamilton will travel to Washington, D.C., for a training trip in January during the winter break.