Men's squash wins final match at team championships
---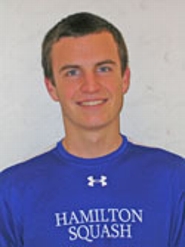 Hamilton College ended the 2011 College Squash Association men's team championships with a 5-4 win against Stanford University at Northeastern University in Boston on Feb. 27.

Hamilton (8-15 overall) entered the weekend ranked 24th by the CSA and last in the eight-team Summers Cup (C Division). The Continentals avenged one early-season loss and nearly did it twice during the three-day event. Hal Lee '11 and Cooper Veysey '12 won all three of their matches during the weekend.

On Friday, Feb. 25, at Harvard University, Hamilton took on No. 17 George Washington University in the first round. The Continentals lost 7-2 to George Washington at home on Feb. 12, but nearly pulled the upset this time before Hamilton was edged 5-4. The Continentals lost 7-2 to No. 20 Columbia University in a consolation bracket match at Belmont Hill School in Belmont, Mass., on Saturday, Feb. 26.

Hamilton dropped a 6-3 decision against Stanford at Dartmouth College way back on Nov. 20, 2010. This time, the Continentals continued their inspired play at the team championships, and knocked off the Cardinal in the 23rd/24th place match on Sunday.

Lyman Munschauer '13 lost the first two games in his match at the ninth position, but won the last three (12-10, 11-6, 11-7) to post a dramatic five-game victory. Munschauer's triumph clinched the win for Hamilton. Alex Wood '12 won in three games at the sixth position, and Tim Gray '12 allowed just 12 points in a three-game sweep at the eighth position.

Against George Washington, Harry Keeshan '13 was a winner in four games at the third position. Lee won in four games at the fourth position, Veysey swept his opponent at the fifth position and Wood outlasted his opponent in five games.

Against Columbia, both Lee and Veysey triumphed in four games. The Continentals were 0-3 in matches that went to five games.

James Hogan '11 and Lee played their final matches at Hamilton. Hogan won 31 matches with the Continentals, and Lee's final record was 48-37.

Wood finished the season with a record of 12-5. Wood and Lee tied for the team lead with 12 wins this season. Veysey's record was 11-6.

Martin Bawden '14 will compete in the 2011 CSA individual championships at Dartmouth. The three-day event begins on Friday, March 4.