Men's squash wins twice at home
---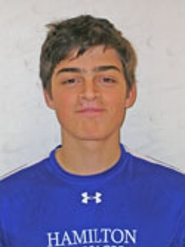 Hamilton College won two out of three matches at the Little Squash Center on Feb. 12 and 13.

Hamilton (7-13 overall) is ranked 24th by the College Squash Association. The Continentals lost 7-2 to No. 17 George Washington University on Saturday before they edged the University of Toronto 5-4 later that afternoon.

Sunday was Senior Day for Mark Clark '11, James Hogan '11 and Hal Lee '11, and Hamilton celebrated by cruising to an 8-1 win against No. 30 Northeastern University. Lee is tied for fifth place on the program's career list with 42 wins.

Cooper Veysey '12 and Alex Wood '12 won all three of their matches during the weekend at the fifth and sixth positions, respectively. Both Veysey and Wood have won seven matches in a row. Wood's record is 10-4 this season, and he leads the team with those 10 victories.

Three matches went to five games against Toronto in the best matchup of the weekend. All five Hamilton wins were in three straight games, including: Harry Keeshan '13 (third position), Lee (fourth), Veysey, Wood and Tim Gray '12 (eighth). Keeshan allowed just nine points in his match, and Veysey clinched his victory by a 16-14 decision in the third game.

Seven Continentals won in three games against Northeastern, including positions three through nine. Hogan was victorious in four games at the second position. Ronald German '13 closed out his match at the seventh position with an 11-0 decision in the third game. Gray surrendered just six points in his match. Lyman Munschauer '13 was a winner at the ninth position.

Hamilton's next scheduled match is at the 2011 CSA team championships at Harvard University on Friday, Feb. 25. The opponent will be revealed a few days before the start of the event.