Men's squash wins twice at NESCAC championship
---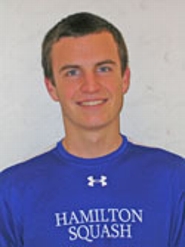 Hamilton College finished in ninth place at the 2011 New England Small College Athletic Conference championship, which was held on Feb. 4 and 5.

Hamilton (4-12 overall) was the ninth seed in the 11-team event. The Continentals were edged 5-4 by No. 8 seed Colby College at Trinity College on Friday night.

Hamilton moved on to consolation bracket matches at Choate Rosemary Hall on Saturday afternoon. The Continentals breezed to an 8-1 win against No. 10 Tufts University, and outlasted No. 11 Connecticut College 7-2 in a tougher match.

Hal Lee '11, Cooper Veysey '12, Alex Wood '12 and Ronald German '13 won all three of their matches during the weekend. James Hogan '11 and Harry Keeshan '13 claimed two victories apiece.

Against Colby, Lee (fourth position), Veysey (fifth) and Wood (sixth) all won in four games. German had to extend to five games to defeat his opponent at the seventh position.

Four of Hamilton's eight wins against Tufts were in three straight games. Veysey, Wood and German swept their opponents, as did Tim Gray '12 at the eighth position. Hogan (second), Keeshan (third), Lee and Lyman Munschauer '13 (ninth) prevailed in four games.

The final match against Conn. College was not easy. Hogan and Wood were the lone three-game winners. Martin Bawden '14 won in four games at the first position, as did Keeshan at the third spot. Lee, Veysey and German all needed five games to clinch the match for the Continentals.

Hamilton hosts Hobart College at the Little Squash Center on Thursday, Feb. 10, at 7:30 p.m.