Men's squash wins twice at team championships
---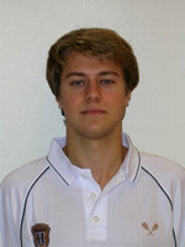 Hamilton College won two matches at the 2010 College Squash Association team championships, and earned the consolation bracket title for the Summers Cup "C" Division at Yale University and Choate Rosemary Hall in Connecticut from Feb. 19 to Feb. 21.
On Friday, the 22nd-ranked Continentals lost 8-1 to No. 19 Tufts University in the first match of the team championships at Yale. On Saturday, Hamilton defeated No. 23 Colby College 6-3 in a consolation bracket semifinal at Yale. The Continentals (11-15 overall) earned a 5-4 win over No. 21 Stanford University in the consolation bracket final at Choate Rosemary Hall in Wallingford on Sunday.
Against Tufts, Brett Morell '10 earned the lone win for Hamilton at the eighth position. Morell lost the opening two games 11-9 and 11-5, and then stepped up to win the next three, 11-9, 11-9 and 11-7. Three other Continentals played to five games, but lost to their Jumbo opponents.
On Saturday against Colby, Alex Wood '12, Harry Keeshan '13, Ronald German '13 and Morell all swept their opponents in three games at the fourth and sixth through eighth positions, respectively. At the fifth position, Hal Lee '11 lost the first two games, but rallied to win the final three (3-11, 7-11, 12-10, 11-7, 11-8). Tim Gray '12 also won in five games at the ninth position by scores of 15-17, 11-7, 8-11, 11-6 and 11-3.
In Sunday's tightly-contested consolation final against Stanford, Wood, Keeshan, German and Morell all won in four games at the fourth and sixth through eighth positions, respectively. Gray's ninth position match was the turning point as he won in five close games by scores of 11-8, 11-8, 10-12, 6-11 and 13-11.
A couple Hamilton players will compete in the 2010 College Squash Association individual championships hosted by Trinity College from March 5 to March 7.