Men's swimmers earn NESCAC all-conference honors
---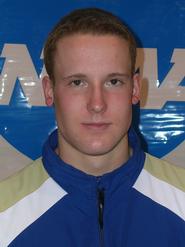 Four Hamilton College men's swimmers earned 2012-13 NESCAC all-conference honors based on their performance at the 2013 NESCAC Championship, which was held at the Wesleyan University Natatorium from Feb. 22 to Feb. 24.

2012-13 NESCAC men's swimming and diving all-conference team

The top three finishers in each event received all-conference recognition. Hamilton finished eighth out of 11 schools in the NESCAC championship team standings with 525 points.

Reid Swartz '15 (Skaneateles, N.Y./Skaneateles Central School) led the way with two all-conference honors. Swartz posted a time of 23.71 seconds and finished third in the 50-yard backstroke championship final. In the preliminary heats, Swartz set a school record with a time of 23.56 seconds.

On the second day of competition, Swartz teamed up with Taylor Hogenkamp '13 (East Aurora, N.Y./East Aurora HS), Conor Collins '14 (Brookfield, Conn./Brookfield HS) and John McBratney '16 (Evanston, Ill./Evanston Township HS), and took third place in the 800 freestyle relay with a time of 6:55.81. The Continentals finished third in the event for the fourth time in the past five years.

Hogenkamp made the all-conference team for the third time in his career, while Swartz grabbed his first two all-NESCAC awards. Collins and McBratney picked up their first all-conference honors.