Men's swimming and diving falls at Amherst
---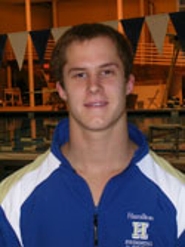 Jake DeConinck '11 finished first in an event and helped Hamilton College to a relay victory in the Continentals' dual meet loss against nationally ranked No. 8 Amherst College at Amherst's Pratt Pool on Jan. 22.

DeConinck captured first place in the 200-yard freestyle with a time of 1:45.50. Taylor Hogenkamp '13 was a close third in the same race with a time of 1:46.12. The top four finishers were separated by less than a second. DeConinck was edged by .01 seconds in the 100 free with a time of 48.49 seconds.

DeConinck and Hogenkamp led Hamilton to a win in the 200 free relay as the Continentals finished with a time of 1:28.54. Andrew Brodsky '11 led off the relay and Jon Fung '12 was second.

Hogenkamp took second in the 50 free in 22.27 seconds. Chris DeConinck '11 was runner-up in the 100 butterfly with a time of 53.82 seconds. Beau Brians '13 was second in 3-meter springboard diving with 201.83 points.

Amherst won the meet with the score of 220-78. The Continentals host Union College for Senior Day on Saturday, Jan. 29.