Men's swimming and diving places 2nd in Hamilton invite
---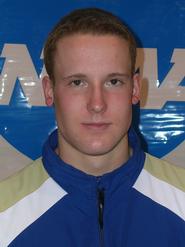 Hamilton College finished in second place out of three teams in the 2012 Hamilton Invitational, which was held at Bristol Pool on Dec. 1 and 2.

Reid Swartz '15 captured first place in three events and was runner-up in two more for the Continentals. Swartz won the 50-yard freestyle in 24.12 seconds, the 200 individual medley (1:59.75) and the 400 IM (4:15.77). He moved into eighth place on the team's top 10 times list for the 400 IM and is 10th for the 200 IM. Swartz was second in the 100 backstroke in 52.94 seconds and the 200 back (1:57.83).

Taylor Hogenkamp '13 claimed two more wins in freestyle events for Hamilton. Hogenkamp finished first in the 100 free with a time of 48.00 seconds and in the 200 free (1:45.40). He added a runner-up finish in the 50 free with a time of 22.37 seconds.

John McBratney '16 posted a solid performance in the distance free events. McBratney's best finish was second place in the 1,650 free with a time of 17:18.17. He was third in a tight finish in the 500 free (4:54.13) and third again in the 200 free (1:49.62). McBratney ended up fourth in the 200 IM with a time of 2:04.58.

Michael Weinzierl '15 edged McBratney for third place in the 200 IM (2:04.23), and was third again in the 100 IM with a time of 57.17 seconds. Alex Jones '16 took third place in the 100 butterfly in 55.96 seconds.

The Continentals swept the springboard diving events. Julian Ziaggi '16 won the 1-meter with 411.30 points and was a close second in the 3-meter with 366.15 points. Beau Brians '13 edged Ziaggi to win the 3-meter board with 366.85 points, and was runner-up in the 1-meter with 384.25 points.

Worcester Polytechnic Institute took home the team title with 2,059 points. Hamilton finished with 1,199 and Trinity College rounded out the field with 733.

The Continentals are off for finals and winter break until Jan. 7, when they travel to Wesleyan University for a dual meet.