Men's swimming & diving 8th after first day at NESCACs
---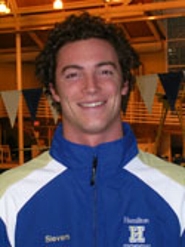 Hamilton College is in eighth place out of 11 teams after the first day of the 2011 New England Small College Athletic Conference men's swimming and diving championship at Bowdoin College's Greason Pool on Feb. 25.

Bowie Sievers '11 finished seventh in the 200-yard individual medley with a time of 1:56.59. Taylor Hogenkamp '13 took third place in the consolation finals (11th overall) of the 50 freestyle in 21.54 seconds. Ian Nichols '13 tied for fifth in the conso finals (tie for 13th) in the 50 breaststroke. Nichols posted a time of 27.22 seconds in the prelims.

Jake DeConinck '11 was seventh in the 50 butterfly conso finals (15th overall). DeConinck's time in the prelims was 23.76 seconds. Tom Cyran '12 finished seventh in the conso finals (15th overall) of the 500 free. Cyran's time in prelims was 4:42.64. Beau Brians '13 ended up eighth in the 1-meter springboard diving event with 320.00 points.

Williams College is in first place and Amherst College is second after the first day.