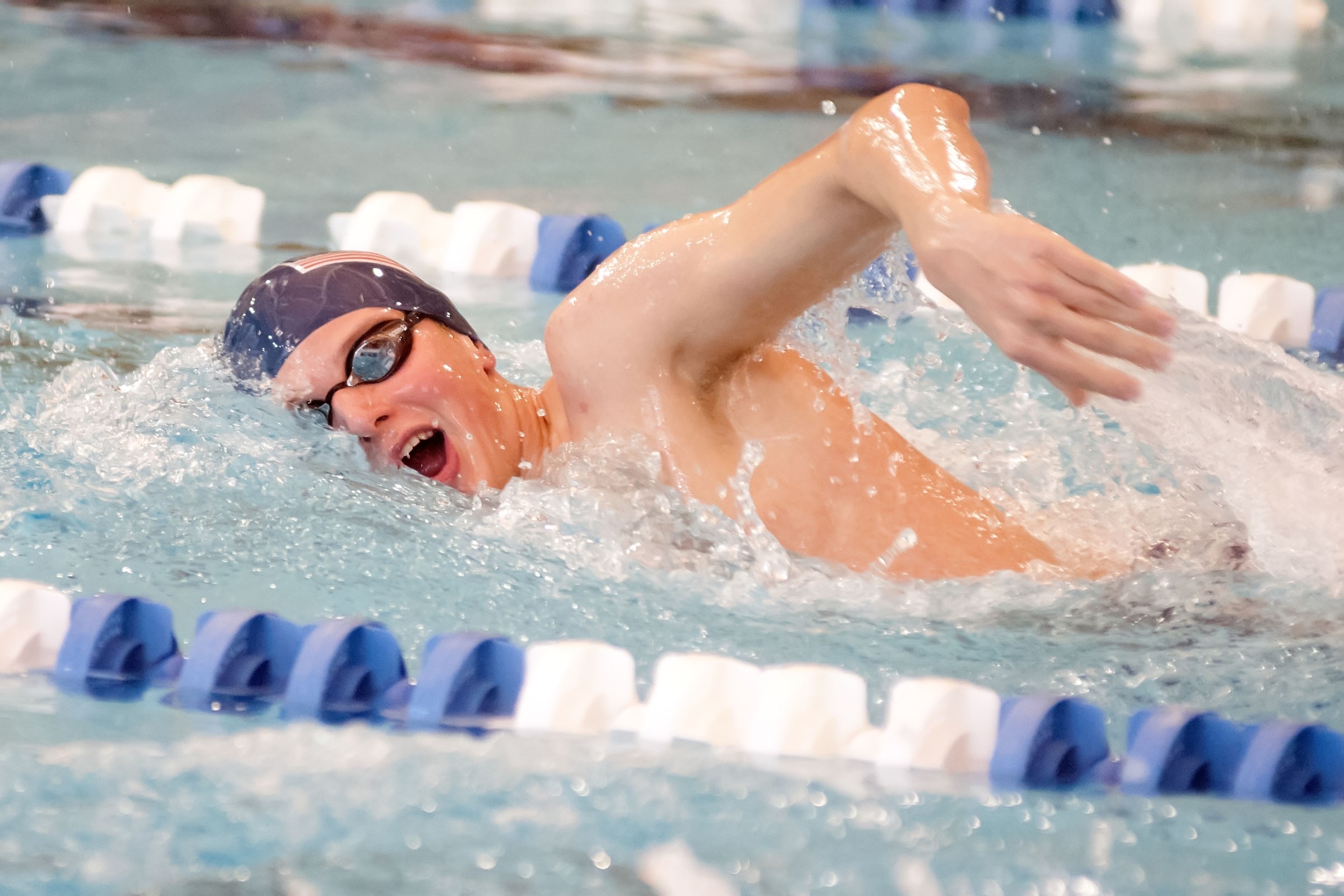 Hamilton College claimed the 2014 Hamilton Swimming and Diving Invitational title at Bristol Pool on Dec. 6.

Results

The Continentals racked up 1,068.5 team points in the two-day, three-session meet. SUNY Oneonta was runner-up with 790.5, SUNY Cortland was third with 675, Colby College ended up fourth with 565.5 and SUNY Potsdam finished fifth with 459.5 points.

Reid Swartz '15 was the driving force behind the victory as he finished first in three events and racked up four more victories on relays. Swartz won the 100-yard backstroke in 51.66 seconds, the 100 butterfly with a time of 51.94 seconds and the 200 back in 1:52.90.

Swartz was part of a Hamilton trio that swept the top three spots in the 100 fly. Callum Thomas '16 was second with a time of 53.78 seconds and Alex Jones '16 finished third in 54.68 seconds.

John McBratney '16, Swartz, Tripp Miller '18 and Andrew McWhirter '15 finished first in the 800 in 7:13.55. Swartz, Scott Becker '17, McWhirter and McBratney won the 200 in 1:28.35. The same quartet posted the fastest time in the 400 in 3:13.96. Swartz, Miller, Jones and McWhirter took first place in the 200 medley relay with a time of 1:38.03.

McBratney took first place in the 500 freestyle with a time of 4:55.62, was runner-up in the 200 free in 1:47.18 and fifth in the 100 free with a time of 49.28 seconds. He was also part of the winning 200, 400 and 800 free relays. McWhirter was fourth in the 100 free in 49.22 seconds.

Miller won the 200 IM with a time of 2:01.03. He added a third-place finish in the 200 breaststroke (2:19.05) and was fifth in the 200 free (1:49.49).

Ryan Cassidy '17 captured first place in the 1,650 free with a time of 17:17.39. He finished right behind McBratney in the 500 free with a time of 4:56.97 and was runner-up in the 400 individual medley in 4:21.35.

Cole Bodak '17 ended up third in the 1-meter springboard diving event with 151.10 points.

Hamilton won't compete again until a dual meet at Wesleyan University on Saturday, Jan. 3, at 3 p.m.