Men's swimming & diving competes at NESCAC meet
---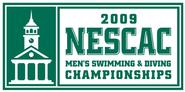 Hamilton College competes in the 2009 New England Small College Athletic Conference men's swimming and diving championships at Wesleyan University's Wesleyan Natatorium in Middletown, Conn., this weekend.
The three-day event begins on Friday, Feb. 27. The swimming time trials begin at 10 a.m. each day. The 1-meter springboard diving event is scheduled for Friday and the 3-meter is on Sunday. Friday's finals get underway at 6 p.m., Saturday's finals start at 5:50 and on Sunday the finals kick off at 5:30.
Click on the link above for real-time meet results, live webcasts, results from the 2008 championships and a full schedule of events. Tickets are $6 per session or $10 for a day pass for adults and $1 per session for children and students.
Hamilton's Jared Mereness '10 earned all-NESCAC honors for the 100-yard breaststroke at the 2008 championships. Bowie Sievers '11 competed in the championship finals for the 200 butterfly and the 400 individual medley at last year's meet. Jake DeConinck '11 is one of the athletes to watch in the 200 freestyle. Zak Krassin '11 competed in the finals for both diving events at the 2008 meet.