Men's swimming & diving competes in NESCAC meet
---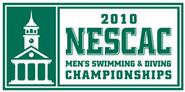 The Hamilton College men's swimming and diving team competes in the 2010 New England Small College Athletic Conference championships at Williams College this weekend.
The three-day event, which is held at Williams' Muir-Samuelson Pool, kicks off on Friday, Feb. 26, at 10 a.m. with preliminary heats. The prelims begin at 10 each morning. Friday's finals are scheduled to begin at 6 p.m., Saturday's will start at 5:50 and Sunday's commence at 5:30.
Five swimmers on Hamilton's roster have earned NESCAC all-conference honors in the past. Jake DeConinck '11, Bowie Sievers '11, Andrew Witkowski '11 and Michael Brennan '12 made it last season for the 800-yard freestyle relay. Sievers also made the list for the 400 individual medley. Jared Mereness '10 was all-NESCAC in 2007-08 for his performance in the 100 breaststroke.
Tickets are $6 per session or $30 for an all-session pass for adults, and $2 per session for children and students or $10 for an all-session pass. Doors will open two hours prior to the heats and finals.
Click on the link in the first paragraph of this story for more information about real-time meet results and a pay-per-view live webcast.